4 Advantages of Using Engineered Wood Products over Traditional Sawn Lumber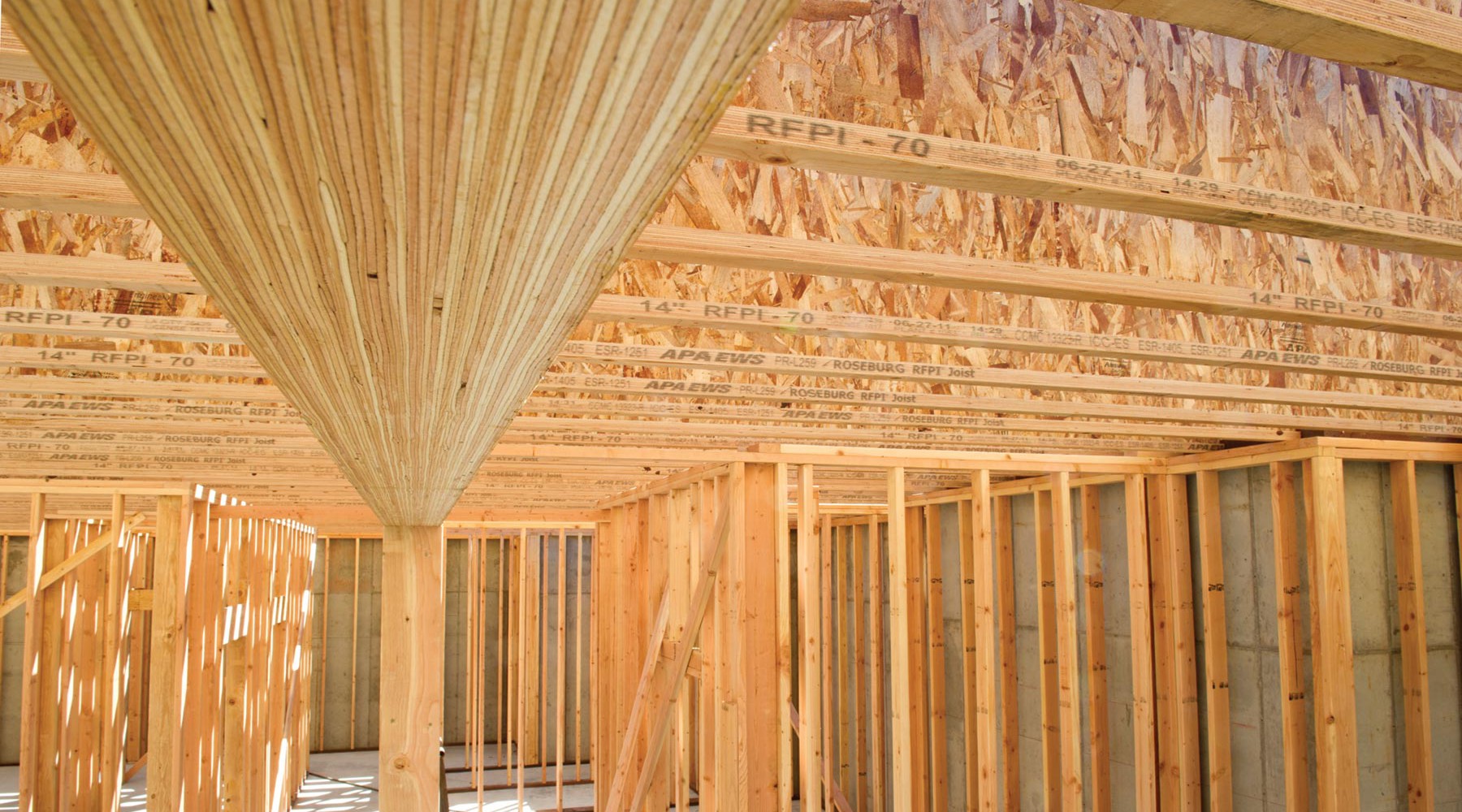 Definitions
EWP – Engineered Wood Product. A structural component made of composite wood materials and glue, engineered to meet specific structural characteristics.
I-Joist – Structural EWP members that comprise top and bottom flanges joined by a vertical "web" to create an "I" shape.
LVL – Laminated Veneer Lumber. Sheets of veneer joined with glue and pressed together to form a single block.
Wane – Missing areas on sawn lumber, typically the result of bark or curvatures in the wood.
---
By the Numbers
I-joists can be:
50% stiffer
than solid sawn lumber
60% lighter
than solid sawn lumber
Using I-joists and LVL to save money, time, and headaches
Homeowners today often have similar priorities: wide-open floor plans, light and bright living spaces, and peace of mind knowing their home is safe for their family. If you're designing or building a structure, you know that it can be challenging to meet all of these needs with traditional sawn lumber and other framing tools. Engineered wood products like I-joists and laminated veneer lumber, or LVL, are growing in popularity because they were designed for this exact purpose; offering many improvements over conventional framing materials, including performance and cost advantages:
Sustainability
Engineered product consistency
A variety of applications
Efficiency
Sustainability
Roseburg is proud to be a conscientious steward of our timberlands, and we're dedicated to making the most out of every part of every tree we grow. Timber is a renewable resource, and engineered wood is an effective and efficient use of that resource; we're able to peel veneer from the logs to get the most raw material out of the wood, and then we glue veneers back together to make a product that performs better than traditional lumber. But it is also more sustainable than traditional lumber because less of the wood goes to waste. There is less cutting, sanding, or other processing involved in the manufacturing of engineered wood products, making them a more sustainable option.
Engineered Performance
EWP offers significant technical and performance improvements since we are able to reconfigure the wood fiber to perform better than traditional lumber.
How? This process starts by choosing high-grade veneers to go into the product: By layering the veneers, any growth characteristics that may reduce strength and performance (such as knots, knotholes, splits and wane) are distributed throughout the material rather than concentrated in a single location, giving the product more consistent strength. By using different thicknesses and different veneer grades, EWP can be manufactured to meet specific performance requirements for use in a variety of applications like headers, beams, columns, roof and floor framing, stair stringers, and even studs.
Sawn lumber can be unpredictable, which you've experienced if you've ever started a project and ended up with a bowed two-by-ten. Engineered wood products, on the other hand, are considerably more reliable and will give you a straight, plumb framing member every time.
A Variety of Applications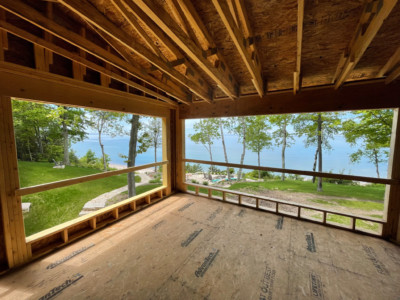 Both LVL and I-joist framing members are manufactured in a variety of long lengths, which gives customers the ultimate flexibility in adapting the product to their individual application. Both I-joists and LVL can be used throughout a home or other structure; whether it's LVL headers and beams for large windows and open floor plans, stair framing, or strong and durable floor, roof, and wall framing systems. Have you ever used LVL in place of traditional studs? It might surprise you! LVL studs provide straight, plumb, and true wall systems for mounting kitchen and bathroom cabinets, and framing two story foyers and entries.
Efficiency  
Engineered wood products are easy to install using conventional framing tools, and they result in superior floors, roofs and wall framing systems. For extra convenience, Roseburg's supply chain partners package EWP framing systems into organized, cut-to-length project packages that are delivered to the jobsite, ready to be installed. Often times, these packages result in fewer pieces and parts, less trimming and a reduction in jobsite waste. Simply by using EWP as a system and its long lengths, you can take advantage of efficiencies, which often results in material and labor savings. Whether it's using considerably less wood fiber than conventional framing materials, or offering longer span capabilities and attractive strength and stiffness characteristics, engineered wood is designed to work better and harder.
See EWP in Action!
Want to learn more about Roseburg's engineered wood product offerings?