Recent news from Roanoke Valley Lumber
Construction continues at Roseburg's newest facility, Roanoke Valley Lumber in Weldon, NC. The site is now dotted with new buildings and concrete pads awaiting the equipment that will turn trees into high-quality dimensional lumber for our growing customer base in the Southeastern United States.
Read on for some recent updates from the area:
Construction Update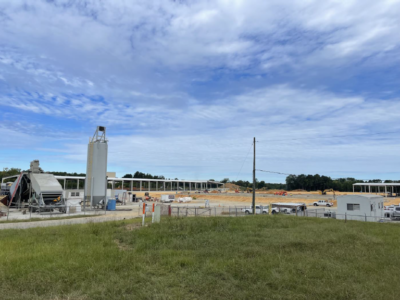 Recent developments include:
Foundation poured for the debarker, which strips logs of bark before processing
Foundation and building installed for the kilns, which dry lumber after it is manufactured
Foundation and building installed for truck loading area
The Roanoke Valley Lumber team has accepted delivery of some key pieces of equipment, and undergone essential training prior to construction completion. Hiring for leadership and technical roles continues, with hourly recruitment to kick off in early 2023.
Please contact HR Manager Rachel Brienza with any questions about hiring at [email protected].
Project Timeline
Community Spotlight
Touch down at Weldon High School
The Halifax County community has welcomed Roseburg and the Roanoke Valley Lumber team with open arms and generous hearts. Our team has had the pleasure of attending and participating in dozens of community events and meetings while getting to know the local area. We were excited to support the Weldon High School football team recently with a booth and refreshments. Football coach Steven Brickell does double duty, serving as our Operations Logistics Manager when he isn't guiding players to success.
Go, Chargers!
Team Spotlight
Roseburg's summer internship program has a simple goal: Provide college students with meaningful work experience and, if all goes well, hire them after graduation. It's a grown-your-own approach to recruitment and development that has paid off well for the company.
Roanoke Valley Lumber's own Plant Manager Adam Reed first joined the company as a summer intern. Over the summer, the lumber team and our Roanoke Rapids timberland group hosted four outstanding interns, who completed real-world work projects that boost their know-how and their resumes.
We hope to see them again as they complete their schooling and launch their careers.
Learn more about Roseburg's internship program here.