What Sets a Roseburg
Internship Apart
Intentional recruiting
Competitive, tiered wage plan
Project-based internship
Networking opportunities
Total business model approach
Capstone project
Performance feedback
The Ideal Candidate
Demonstrates knowledge of Roseburg's core values
Exhibits positive work and team attitude
Engages in the business, brings value and achieves objectives
Displays good judgement in critical thinking, problem solving, and decision making
Demonstrates initiative, drive, and leadership with strong interest in learning and growth
Requirements (Internship)
Currently enrolled in college or attending college in the fall, immediately following summer internship
Pursuing a degree related to position of application
Strong GPA preferred
Intern Where You Want to Work
Experience an industry-leading summer internship with one of the largest privately-held forest products company in North America.

Departments:

Engineering
Finance/Accounting
Human Resources
IT
Logistics
Manufacturing
Resources/Forestry
Safety/EHS
Sales

Locations:

Coquille, OR
Dillard, OR
Medford, OR
Missoula, MT
Riddle, OR
Simsboro, LA
Springfield, OR
Taylorsville, MS
Vaughn Resources Office
Weed, CA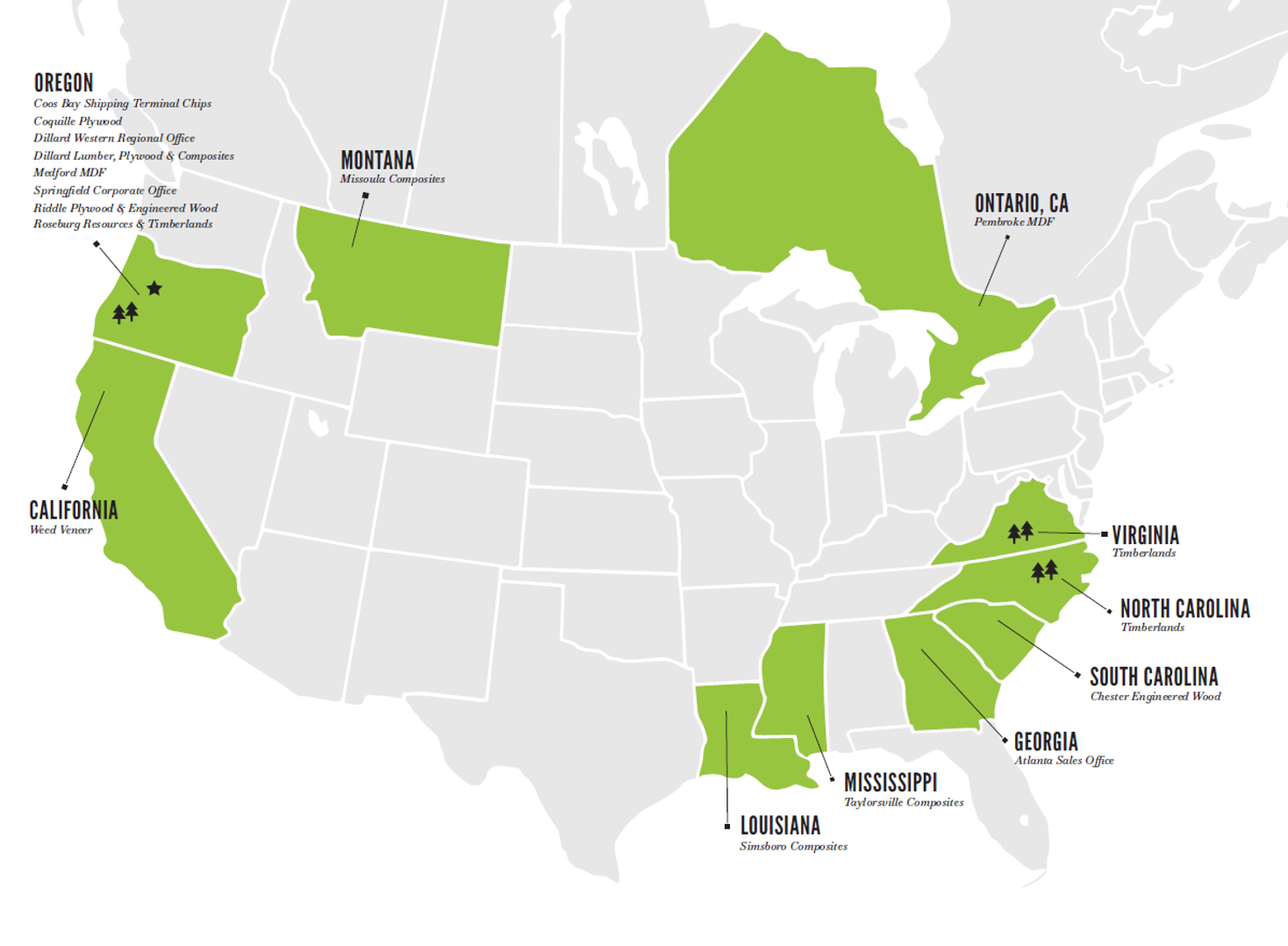 For more information, please email us at [email protected] and include the following information:
Area of interest
Brief summary of yourself
School
Major
Internship positions are available based upon department need and differ from year to year, please inquire for more information on available positions
Current Employee Testimonials
Adam Reed

Roanoke Valley Lumber, NC - Plant Manager, 2014 Intern

---

"Interning at Roseburg helped me achieve my current role by providing the opportunity to learn hands on with some of the most advanced people and equipment in the industry. Roseburg gave and continues to give me an incredible opportunity to excel in my career. Their commitment to the community and their core values sets an amazing example."

Kallie Ridge

Springfield Office, OR - Benefits Coordinator, 2017 Intern

---

"The internship program with Roseburg was an incredible opportunity that enabled me to gain real-world experience. This program has equipped, encouraged and propelled me to grow as a young professional, which has lead me to discover new avenues of passion within my current role today."

Andrew Hicks

Lebanon, OR – Tree Improvement Forester, 2015, 2016 & 2017 Intern

---

"I had the benefit of being a member of the Roseburg internship program three times. Throughout the summers I not only was able to gain work experience for school, but also was given the opportunity to improve upon my career applicable skills and to refine my ability to present myself in a professional setting. Each summer I was able to return to familiar faces and familiar tasks, but with increasing responsibility and expectations as well, for which the internship program helped prepare me. From this I was able to work as a technician during the school-year and maintain a good connection with Roseburg, which ultimately put me in the position to accept a job offer when I graduated school."

Beau Grauf

Dillard Lumber, OR - Production Manager, 2015 & 2016 Intern

---

"My internship with Roseburg Forest Products provided me with an excellent platform to grow an develop as a future leader. I was able to work hands-on with hourly employees and senior leadership alike, which ultimately prepared me to step into my current role as a supervisor with an edge that otherwise I would not have possessed."

Tom Ziegler

Springfield Office, OR - Senior Programmer Analyst, 2014 & 2015 Intern

---

"Before becoming employed with Roseburg, I had spent two summers as an intern in the IT department, while attending OIT. My first two summers allowed me to get more experience in the networking and systems side of IT. After that, I then decided that I wanted to develop software instead, and was hired with Roseburg as a Software Developer after graduating from OIT in 2016. Working as an intern got my foot right in the door, and gave me the experience and the excellent opportunity for working here or anywhere else in the IT department."

Colby Hanson

Dillard Lumber, OR - Human Resources Generalist, 2020 Intern

---

"Roseburg's internship program offered me the opportunity to build real-world experience while being surrounded by knowledgeable and experienced professionals. I developed a skillset and knowledge base throughout my internship that proved invaluable to my professional development. I would not be in the role I am today if it were not for the opportunity Roseburg's internship program afforded me."

Connor Gowey

Dillard Western Regional Office, OR – Forester I, 2018 & 2019 Intern

---

"My time as an intern here at Roseburg allowed me to challenge myself both physically and mentally. I was able to use my knowledge from school in the field to help make forest management decisions. I really love how much effort and time goes into developing interns here at Roseburg Forest Products. I think we have a great overall intern/mentoring program."

Kristian Lehtinen

---

My name is Kristian Lehtinen and I am working as an engineering intern at Roseburg's Roanoke Valley Lumber (RVL) Mill. I am currently a rising senior attending school at Clemson University whilst studying mechanical engineering. Summer of 2023 is my second year working as an engineering intern at RVL. Outside of school and work, I am involved in several engineering organizations and intramural sports leagues. I enjoy the outdoors, such as fishing, hiking, biking, snowboarding, etc. I also enjoy spending time playing sports, guitar, and lifting weights.

Christopher Acosta

---

I'm Christopher Acosta, an Engineering Intern at Roseburg Forest Products. Currently, I am a third year undergraduate student at Columbia University, pursuing a degree in Mechanical Engineering. My ultimate goal is to contribute to the aerospace industry, specifically in the realm of designing rockets and creating extraordinary space megastructures like a Dyson sphere. In my free time, I enjoy working out in the gym, experiencing cuisines from different cultures, watching movies or shows of interest, and taking on exciting projects. I'm thrilled to be part of the team, and I look forward to collaborating together and learning as much as possible from you all!

Liam Cooley

---

My name is Liam Cooley, for the summer I'll be working as one of the Continuous Improvement Interns. I currently live in Knoxville, Tennessee, where I attend the University of Tennessee Knoxville (Go Vols) but I'm originally from the Pacific Northwest. I was born in Tacoma and lived in Washington State for the majority of my life so I love spending time outdoors. I use my spare time to read, go on camping trips, canoe, or really just any activity I can use as an excuse to get outdoors.
Intern Alumni Testimonials
Jim Amani

Cal Poly University, Pomona, Mechanical Engineering Major, 2015 Intern

---

"I gained 'real world' experience doing real engineering work that had a purpose and built confidence."

Taylor Trammel

Oregon State University, Business Administration & Management Major, 2016 & 2017 Intern

---

"Roseburg gave me the opportunity to work in a different department, exactly what I wanted to do to gain new experience and expand upon my previous [Roseburg] summer experience. I am confident and ready to enter my professional career, and in large part, I owe that to the opportunities given to me by Roseburg Forest Products."

Annie Osman

University of Oregon, Accounting Major, 2021 Intern

---

"Roseburg's internship program is the best internship program that I could have ever asked for. It was exactly what was described to me and a very hands-on learning experience. From day one, you feel like a team member rather than an intern."

Ashley Backen

Oregon State University, Forest Management Major, 2019 Intern

---

"I can honestly say this is the best internship/job I have ever had. I feel I brought value to the company and also had fun doing it. I can easily see myself working here in the future."

Cody Early

George Fox University, Biology Major, 2019 Intern

---

"I enjoyed my time at Roseburg! I feel I brought a lot of value to the company and feel appreciated by the supervisors."

Josiah Van Hattem

Oregon Institute of Technology, Mechanical Engineering Major, 2019, 2020 & 2021 Intern

---

"Every year I learn how to be a better me. Growing Together, Driven to Win, Safe to the Core, Handshake Integrity, Sawdust in the Veins."

Clayton McCarter

Mississippi State University, Chemical Engineering Major, 2021 Intern

---

"The team I worked with was incredible! They provided me with constant feedback and encouragement during the whole internship. I have been pleased with the culture of the company and the general mood of the mill."